SEPTEMBER'S MUSIC NOTES
As another summer draws to a close, we are sad to be losing our loyal "summer singers" before long.  Many thanks to Karen Carlisle and Sherry Orr who will be heading off to winter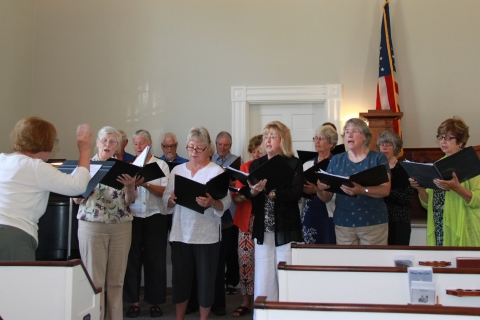 responsibilities this month.  It's always fun to sing with bigger groups and extra voices. 
September, too, means the choir starts to work on our holiday songs.  Hard to believe, but I was busy listening to Christmas, Advent, and Thanksgiving anthems in June.  They are snug in our files now--ready to be handed out and dissected.  I know you once again have an extraordinary holiday season of music to look forward to in the coming months.  We are thankful for the generous financial gifts to the music fund in the last couple of years.  Because of these gifts, you will be able to enjoy extra musicians and many new anthems!  Stay tuned for more news about Music Sunday coming up December 17th!
The choir has quite a September ready for you too!  We will be doing an arrangement of a favorite old time hymn, "Whispering Hope" on September 3rd; Wendy McClenahan and her flute will be joining us Sept. 10th for a new anthem—"Jesus, Savior, Lord I Adore You".  The last two Sundays of the month will feature some wonderful American spirituals…a new anthem combining "Down to the River to Pray" and "Shall We Gather at the River" on Sept. 17th, and a congregation favorite featuring "Swing Low, Sweet Chariot" on Sept. 24th. 
Perhaps you'll be humming along with these and thinking you might like to join the choir for the holiday season?  We'd love to have you.  We rehearse after church each week and the first and third Monday evening of each month from 7-8:30. Speak to me or any choir member if you might be interested…
Wishing you days filled with rich harmonies,
Sue Luce, Music Director