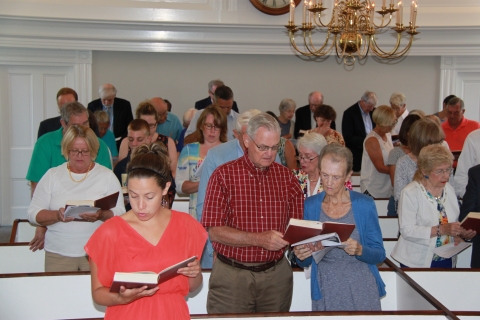 Worship is the heartbeat of every Christian church. Members and friends of Elijah Kellogg Church gather every Sunday morning at 10:00 am to worship God.
Special services – Thanksgiving, Christmas Eve, Ash Wednesday, Maundy Thursday, Good Friday and Easter morning – happen at appointed times throughout the year.
Every worship service brings together songs and prayers, scripture and sermon. Our people lead in service with the pastor. Communion is served on the first Sunday of every month and all present are invited to take part.
Sunday School for children Pre-K through 6th grade takes place during morning worship. Childcare for infants and toddlers is provided every Sunday. A time of refreshment follows every service in our Fellowship Hall.
Every Thursday at 11 am you are welcome to join us for Bible Study in the parlor. Please check our calendar regarding any changes.
We have an active Prayer Circle. The members and their contact information are listed here.
All our facilities are handicap accessible. Visitors, friends and neighbors are always welcome!